Best Wedding Decorator in Kolkata
Yuvik Weddings & Events has brought to you- 360-degree event management services from catering to decoration and more! We are your wedding decorator in Kolkata, an organisation full of young, radiant professionals who love to innovate and curate aesthetic wedding venues, engagement ceremonies, fun pool parties, and more. Quality service and relentless follow-ups- there are reasons why our clients adore us!
Yuvik Weddings & Events is Also Your Florist in Kolkata
Searching for that one wedding decorator near me to hand you the flower designs you have always dreamt of? Flowers are inseparable from wedding decors!
And there are a lot of efforts and time that have to be invested in getting one perfect flower design. Yuvik Weddings & Events – your wedding decorator and florist in Kolkata, has got your back! Our talented team members curate gorgeous floral decoration for a wedding – the time has come to make all your dreams come true!
Wedding is an important business- every little aspect requires much attention, even the minute flower decorations or the lights! Hiring a company that will take care of the wedding venue and care about those emotions and all sorts of decoration requirements is a must!
Our passion reflects floral decoration for weddings, and we invest in art, innovation, and aesthetics. We ensure quality in every detail. And also, we strive for synchronisation of the entire design as your florist in Kolkata. Flowers for the bride, bouquets, floral arrangements are taken care of on your behalf- because all of them have to in sync- in most of the decorations. We also make garlands or jaymalas, centrepieces as per client requirements.
Wedding Decoration Service in Kolkata at Yuvik Weddings and Events
Book our services for every wedding event at your place. From organising light and sound to performances, flower designs to choosing the right colours as the best florist in Kolkata- we have got your back. Add a classic touch with the best wedding decorators in Kolkata.
Our Wedding Decoration Servicein Kolkataspeaks for itself. We provide decoration solutions for every event at a wedding. From a picture-perfect Mehendi to an entertaining after-party- you name an event, and we decorate your dreams for you.
Unique concepts, cultural charm, and regional experience are important factors that your wedding decorator should give equal importance to. We innovate decor ideas on your budget- personalised wedding decorations, venue selection, themed decors, food selection – everything come in our customised packages.
Acing Wedding Decorator in Kolkata Since Years
Bring out the best of an event with wedding reception decoration- choose the flowers, bouquets, lights, and execute the decoration for you. 
Add royal elegance with classic decors, and we also have experience in themed wedding ceremonies. A wedding is all about creating memories; make sure you have something to hold onto. A whole wedding decorator package for every event- from Mehendi to wedding after-party, we cover everything. We pay attention to minor details, which make our Wedding Venue Decorations in Kolkata even more professional.
From wedding stage decoration to mandap – Yuvik Weddings & Events is the no. one wedding decorator in Kolkata. You can always witness our work on our website. Add galore and charm to your special day with our team of creative individuals. 
Yuvik Weddings & Events is More than a Wedding Decorator
Other than weddings, we also decorate all sorts of corporate and private events for our clients.
Stage Decoration for Wedding
We do all the flower and galore for wedding stage decorations. Stage decoration requires attention to detail, a lot of energetic approaches and creative ideas- aspects our team is a master of!
Wedding Mandap Decoration
Not only stage decoration or gate design for you, but we also design wedding Mandap for you. Mandap decorations floral designs reflect our best works!
Sangeet and Varmala Event Decoration
As part of wedding decoration, we decorate for all wedding events. Sangeet and Varmala Decoration are also included.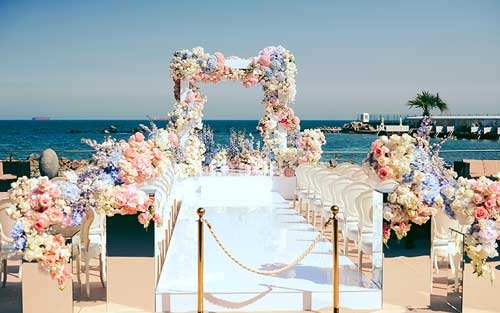 Entry Gate and Passage
VIP Sitting Lounge
Cabana Decoration
With Yuvik by your side, you are getting a complete wedding decoration package for gates, lounge and cabana decorations too!
Mehendi / Haldi / Myra and Rituals Decorations
Weddings are about personal rituals - get Mehendi, Haldi ritual decorations in your complete wedding package.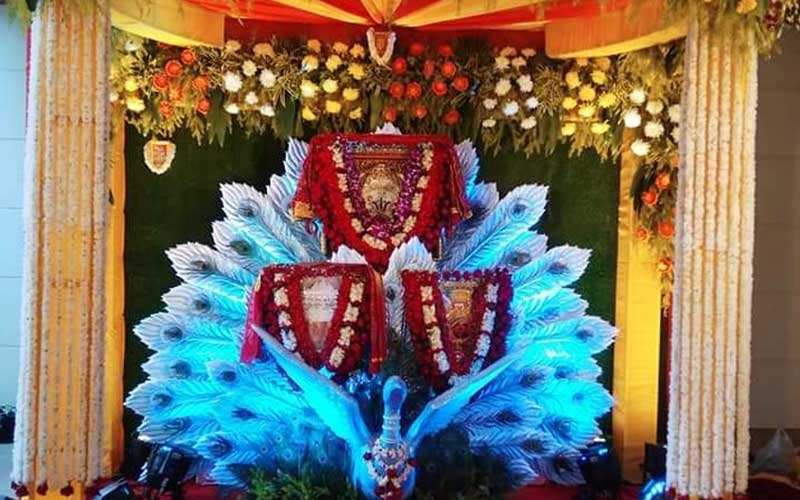 Bhajan Stage
Sringer / Darbar Decoration
We also provide event management and decoration services for devotional programmes- flowers, stage decorations too!
Besides being the Wedding Decorator in Kolkata, we also provide additional services like wedding planning, event management, talent management, catering services, photography and videography services, and more!
Decorations are all about the charm and the proper synchronisation we have already talked about. We have come this far, all thanks to a hard-working team and constant support from our satisfied clientele. From birthdays, anniversaries, private party decors, devotional decorations- Yuvik has done it all, and we have done it all with love and grace.
Curate Everlasting Memories with Your Wedding Decorator!
Suppose you are looking for other varieties and elegant and aesthetic designs ad decors. In that case, you are in the right place. The decoration is one of our specialisations for weddings and all other sorts of events like birthdays, religious events, anniversaries, parties, corporate events and more.
Wedding decoration requires excellent teamwork and the finest talents and attention to detail – we do theme weddings, candid ceremonies, and traditional weddings. We are Kolkata's finest event planner and event managers. We believe every event is different, and our team is always ready to shower you with new and out-of-the-box ideas. With our professional team by your side, you can enjoy the day to the fullest. We blend traditional with contemporary – brings out the best in Indian wedding celebrations.
Frequently Asked Questions by Our Clients
Ans: Yes, at Yuvik Weddings & Events, we also provide decoration and florist services for destination weddings. We are also a destination wedding planner based in Kolkata.
And: As per our services, we offer personalised wedding decoration charges for every budget. Get in touch with us to know more about your wedding decorator pricing today!
Ans: Yuvik Weddings & Events is your 360-degree wedding decorator, and that means we cover everything from planning the decorations t supplying all the decor products as well, while the one thing you have to do is just show up!

Yuvik Weddings & Events is your complete event management solution in Kolkata and India. Get to know us a little more.

Please fill out this inquiry form to set your next appointment.

Plan your next event with Yuvik Weddings & Events – the best wedding planner for you. We will cover every service on your budget! To get quotes and propositions. Call us today!