Wedding Photographer in Kolkata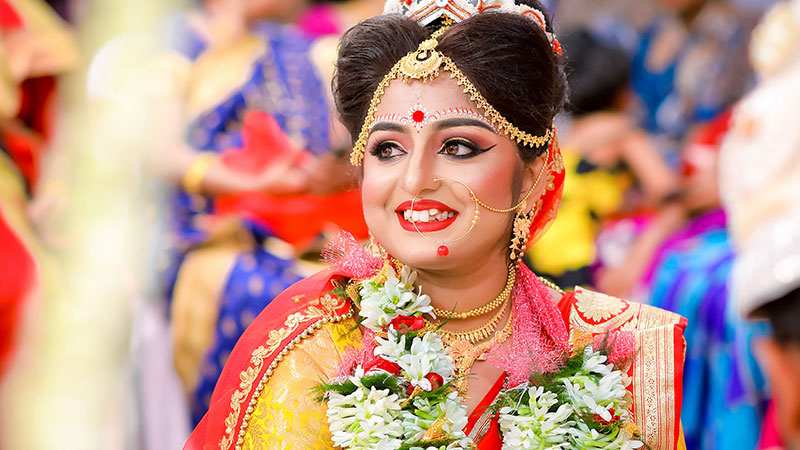 A wedding is the most celebrated ceremony, and it can go all wrong without your wedding photographer in Kolkata. At Yuvik Weddings & Events, we go all the way to make your memories more beautiful than you can ever imagine!
With a strong team of young professionals and an innovative mindset – we have been most adored for our wedding planning and photography services. Capture your dream wedding with us, and then get to see them later through our lenses! Yuvik Weddings & Events welcomes you to experience the best wedding photography in Kolkata!
Wedding Photographer in Kolkata: The Trendsetters of Celebrations!
Every wedding is unique in its way- the stories, the setting, the culture, the celebration, and all other aspects! And, it is crucial to make the most out of this day, and you surely want to keep all the memories close to your heart. 
Well, that is what your wedding photographer in Kolkatais for! The people of Yuvik Weddings & Events care about two things – fresh ideas and perfect execution! Our previous work can speak for our core values. We are here to make all your moment's count- trust us with your idea. Our camera reels will turn them into the most beautiful visions!
Wedding Videographer in Kolkata: Choose the Best!
Our precious clients admired our previous candid wedding photography in Kolkata sessions and wedding works captured by our exceptionally talented Wedding Videographer in Kolkata! There are reasons why they love Yuvik Weddings & Events and our radiant team of sound professionals!
If you want to hire some of the best wedding photographers in Kolkata, then Contact us!
We will provide you with complete event management and photography solutions with quotes, packages, and more! Set a budget, and we will do the rest for you!
Capture Precious Moments with Your Wedding Photography in Kolkata
Photography is a big part of Indian weddings. It is about the big fat celebrations and about creating the keepsake of memories forever! Weddings are the epitome of colours, emotions, and all those once-in-a-lifetime moments- you are going to need a professional wedding photographer in Kolkata.
With all that goes on with wedding jitters- the planning, the guest list, the decorations, the venues, and what not! All of that makes the task of finding the right photographer a bit tedious! Isn't it? But with our creative and energetic team, it is now only about a few clicks!
Have an Experience of a Lifetime, through Our Eyes
The quest for finding the best wedding videographer in Kolkata ends here! Do you want to hire someone who understands your vision? Do you want your photographer to capture the true essence of your big day? A limited budget is not even a problem at all!
Yuvik Weddings & Events is your solution for wedding videography in Kolkata. Weddings are all about the galore. After that, the only things that remain are the memories- wedding photoshoots are so crucial that one wrong step can make everything else look bad. 
But not with us; we indulge in providing quality service with world-class equipment and at reasonable prices. Organising events is our passion; capturing the true essence of a celebration is our aim. Our experienced and talented, creative team of wedding photographer in Kolkata are all about bright ideas and intelligent executions! Reach us out for Wedding Photography Services. 
Frequently Asked Questions (F.A.Q.s) by Clients

Yuvik Weddings & Events is your complete event management solution in Kolkata and India. Get to know us a little more.

Please fill out this inquiry form to set your next appointment.

Plan your next event with Yuvik Weddings & Events – the best wedding planner for you. We will cover every service on your budget! To get quotes and propositions. Call us today!